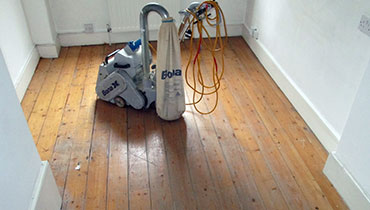 If you have or you are thinking about installing a wooden floor, you should be aware it requires certain regular care and maintenance, to preserve its character, colour and stability. It's recommended, for the sake of the wood itself, to hire professionals to do all the sanding, sealing, staining or finishing the base will need as the years pass by. Even though it's an additional expense, the results will be worthed the investment, especially if you trust Floor Sanding Watford for the job. Our mission is to spare you the stress and nerves from dealing with the maintenance on your own, taking into account how demanding it can be. Floor sanding and refinishing is skilful work, any mistake stands out clearly. With wood you never know, you may face all kinds of problems at any given moment.
Our team handles any renovation solid wood may require and brings back to life the former glorious shiny surface. Once the procedure is over, your base would be as perfect as always. We clearly take preferences in sanding hardwood and there is a long list of reasons for that. To start with the procedure is easier and takes less time, compared to engineered floors or laminate. Another thing is that solid floors can be really charming, especially if you've selected an exotic timber, so it's a pleasure for us to help out creating a homey, friendly atmosphere.
Generally, sanding newly laid floors is a must, in order to even the surface, while old ones may require sanding, to renovate the old worn wood finish. The process transforms the overall appearance and atmosphere of the room. Solid wood sanding techniques may vary quite a bit, and depend on different parameters our team should take into consideration since the very first assessment visit. Some of the things we pay attention to, in order to adjust our work plan to the individual needs of each project are the current condition of the timber, flatness and the current kind of finish on them. So that we can guarantee for sure satisfying results, an initial test is recommendable, to reveal how easily the surface sands off. Hardwood floors are usually thick enough to endure the procedure, but our team prefers to make sure every time!
The sanding includes several stages, that may vary, according to the floor's condition.
First thing to do is remove any screw or nail heads, a metal detector is usually used to detect those, including hidden ones.
We prefer to start with around 36 or 40 grit sandpaper, up to 120 grit for the last sand.
The dust left off is great material for filling holes or gaps in between the planks.
We apply a couple of final sands to even the surface and prepare it for the last finish.
We use top brand wood finish products for the staining, sealing and recoating that usually complete the sanding.
Cheer up, it's pretty common, we've seen and handled thousands of wood damages. The key point here is to identify the type of timber and the techniques used back when the floor was being installed (glued, nailed, a floating base, etc.), in order to repair anything the best possible way. We have professionals for the job, however, it would come in handy if you give us the name of the supplier of your timber. The next step would be to get a match, as close as possible to the current wood, to avoid ugly patches. Still, having doubts? Call on us at 020 70360625 and have yourself a free consult!