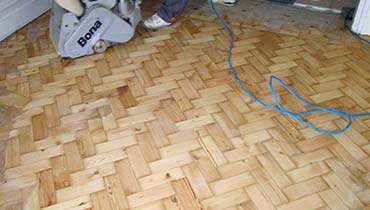 Many homeowners and businessman opt for installing classy wooden floors, without taking into consideration the fact that wood is not everlasting and it needs to be looked after regularly in order to maintain its stability and gorgeous appearance. The maintenance mainly includes sanding and restoration procedures on a regular basis. The catch here is that floor sanding can only be done a limited number of times, depending on the timber.
Parquet sanding can be especially complicated, so it is not smart to trust just any online tips on how to handle it on your own, even though you'll find millions of them. It's true you might save some cash doing it yourself, however, it's better to delegate this task to professional, so you can eventually enjoy the best results. Our team at Floor Sanding Watford has solid experience in the industry, impeccable work for affordable costs is guaranteed.
It's safe to say that the majority of potential customers would simply ignore our offer with a bit of scepticism, so, without further due, we've decided to make a well-defined resume, to clarify the entire sanding cycle for you, in order to give a better idea of the whole thing, and the skills and training required for the job. Same as any other task, including home repairs, meticulous preparation is the key to success, as well as choosing the exact equipment, tools and suitable quality products. Dedicating enough time to get it done is also a must.
The very first thing to do is examine thoroughly the entire floor to reveal any unstable blocks, not firmly attached to the underfloor, as they are most certainly the prime suspects for squeaky sounds and usually cause stability issues. It's quite common for the boards to have developed gaps between them, with the time. This preparation stage is the right time to take care of these gaps and glue down any loose planks there might be. It's also imperative to clean thoroughly the base, using a detergent that can dissolve wax. Usually, there is more than one layer, that simply gets in the way of the sanding machines, delaying the whole process. If you are installing a brand-new parquet, it's important to clean and level the under floor as well.
It's out of great importance to determine the current thickness of the wood before even starting the procedure. It is helpful to be aware of the number of times until the current moment the parquet has been sanded or if it has been renovated in any way at all. In some rare cases, our machines could scrub out too much material, uncovering tongues and grooves. To avoid any problems, we usually go as fine as we can. Staining is good for any timber, as it provides additional protection through sealing the wood itself. Our staff organises the staining of the surface in sections and always oriented toward the doorway, in order to avoid stepping on the recently stained floor. Usually, stains require a night to dry up, although it depends on the stain.
Lastly comes the finishing procedure. Selecting the most suitable product is imperative at this stage. Oils and waxes are highly recommended, as they show off the beauty of the restored floor in a spectacular way. On top of that, they create a protective layer, preventing environmental influence like dirt and moisture from penetrating into the wood. Usually, a few coats are required; the last one shouldn't be sanded. This is just a quick look at the sanding routine. For further information and additional details and clarifications, reach out at 01923 627990, make an appointment, get yourself a shiny, magnificent parquet, right now!