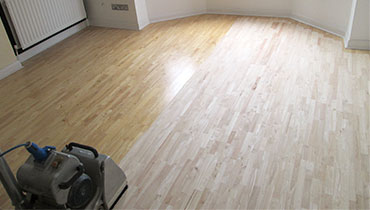 When talking about home repairs, especially laying or restoring floors, many homeowners believe solid wood to be the best possible option. Actually, it has some hidden drawbacks an amateur never takes into consideration, and eventually regrets his choice. For starters, laying solid floors is tricky, and the base itself is susceptible to moisture and heat. Ok then, how about laminate? It's attractive and cheap, but don't kid yourself, it's just not real wood. We present you with the best alternative: engineered flooring.
First and foremost, the engineered floor has the natural characteristics of the wood for a much lower price. Second of all, it's more stable and resistant to moist and heat than solid wood. Laminate is not even close, the good thing about it is the low installation price, still, it's wiser to install engineered wood base, as it can be sanded, reviving the wood and rubbing out scratches.
It's usually perfect on a concrete subfloor, either glued-down or installed as a floating floor, it depends on the customer preferences. Any owner inevitably faces the wood maintenance related issues, so here is a valid question: Can you sand engineered wood? Mostly the answer is positive, you can definitely do so. The minimum is 2-3 times, depending on the thickness of the solid wood layer. Sounds too good to be true? Are you looking for the catch here? Here it comes, you only have a few millimetres of actual wood to work with. Therefore sanding should be left to the professionals, mainly due to the thin real wood top layer (3-6mm). The procedure needs to be done in a meticulous way, to avoid sanding through the plywood. To escape trouble, choose wisely which professional company to trust.
Why you should pick Floor Sanding Watford? We can talk to you about wooden floors for hours: types, sizes, colours, techniques... we call ourselves wood flooring experts for a reason. We have learned a lot about engineered floors with the years, so when we see a base like that, we know the right approach for its restoration. Our sanders are gentle to all engineered surfaces, no matter the thickness of the top layer. We prefer to stress once again on the low tolerance for failure with restoring this type of wood, which is why hiring a professional is more than recommended. Finally, it will cost you an affordable amount and the results guaranteed to be satisfying and durable. Let's sum up: moderate price, cozy look, great characteristics… What are you waiting for? Our services come with quick quotes and free advice. Reach out at 01923 627990 now, to schedule a free visit to your home or office space, whenever your personal schedule allows it.